"CHEESE BURGER" WITH BREADED ASIAGO CHEESE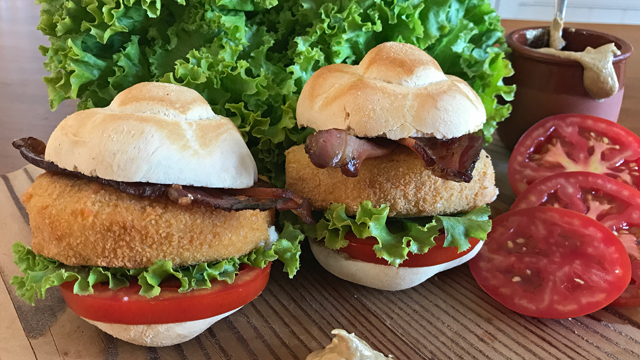 – 1 slice of Asiago Brazzale cheese high 1,5/2 cm
– flour, to taste
– breadcrumbs, to taste
– 1 egg
– sunflower oil
– green salad
– tomato
– 2 slices of bacon
– mustard
– fresh bread or hamburger bread with seeds
An extraordinary alternative to the usual hamburger with meat or the veggie one…
This crispy breaded Asiago with tender heart will make you fall in love!
PREPARATION:
First beat the egg and prepare in line the bowl with egg, the one containing the flour and the one with breadcrumbs. Take the slice of Asiago cheese and dunk first in egg, then in flour, then in egg again and finally in breadcrumbs.
Now take the two slices of bacon and place them in a skillet over medium heat so that they become crispy.
Fry the breaded Asiago cheese in sunflower oil and when the breading is golden brown, drain it on kitchen paper so that the cooking oil is dried.
Now compose your cheeseburger! Halve the bread, spread the mustard, place the salad and tomato, the fried Asiago cheese and the crispy bacon slices, close the sandwich and serve with French fries!
Enjoy your meal!