CREAM PUFFS WITH GRAN MORAVIA AND LIME CUSTARD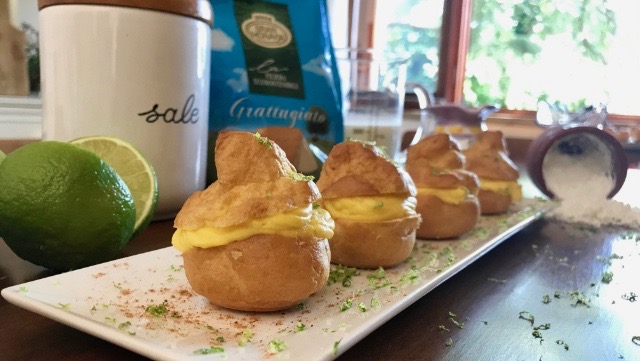 CHOUX PASTRY:
– 2 medium eggs
– 3 oz (75 g) flour
– 1/4 cup fresh milk
– 5 tablespoons water
– 2 oz (50 g) Burro Superiore Fratelli Brazzale
– a pinch of salt
– a pinch of sugar
GRAN MORAVIA AND LIME CUSTARD:
– 1 oz (25 g) cornstarch
– 3 oz (70 g) grated Gran Moravia
– 4 egg yolks
– 10 oz (270 g) fresh milk
– 3 oz (70 g) double cream
– a pinch of salt
– zest of one lime
– nutmeg to taste
These wonderful puffs will prevent such banality of canapés and sandwiches, putting on the table their originality and simplicity.
Unexpectedly amazing!
PREPARATION:
First you need to make the cream puffs with the choux pastry, so you must put in a saucepan the milk, water, a pinch of salt and sugar and finally the butter. Melt this mixture over low heat and bring it to a boil; then move the saucepan from the heat and add the flour, stirring with a whisk.
Put again the mixture on fire until the dough is smooth and no lumps and when at the bottom of the pot there will be a patina, you must to transfer the blend into a bowl (or use a kneader) and stir with a whisk to cool it.
Now add the eggs, one at a time, and continue stirring until the dough is uniform. Transfer it into a piping bag and form the cream puffs on a baking tray lined with baking paper.
Bake them for 25 minutes in preheated oven to 200°C (do not open the oven door during cooking).
Now take charge of the cream and put the milk in a saucepan with nutmeg, salt and lime zest and bring to a boil over low heat.
In a bowl mix the grated Gran Moravia with starch and add double cream, mix and pour the mixture into the boiling milk and continue stirring for a few minutes with a whisk until it thicken. Combine yolks and mix for one minute until the cream is perfectly thickened.
Cool the mixture into a baking dish with a contact film and then put it into a piping bag, cut in half the cream puffs and stuff them with custard, sprinkle them with a bit of lime zest and… Enjoy your meal!