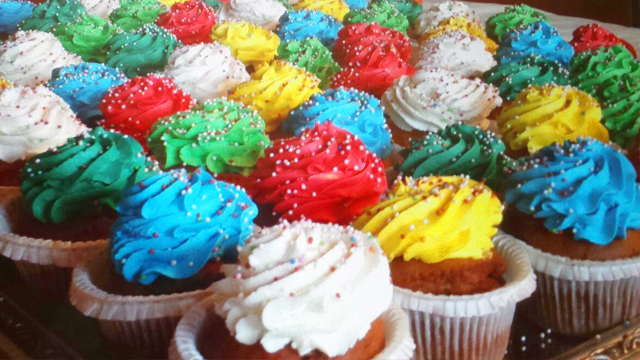 INGREDIENTS (12 servings):
BASE (MUFFIN):
– 1 cup (120 gr) 00 flour
– 1 cup (200 gr) sugar
– 1/2 cup (120 gr) Burro Superiore Fratelli Brazzale
– 2 eggs
– 1 vanilla bean
– 0,1 oz (3 gr) baking powder
– a pinch of salt
MULTICOLOR CREAM:
– 1 cup (200 gr) cream cheese
– 1 tablespoon (10 ml) heavy cream
– 3 oz (70 gr) sugar
– food coloring powder
Cupcakes come from United States and are delicious and fluffy treats that can be decorated with butter, cream cheese or with different icings.
Perfect for a delicious snack or for a fantastic breakfast!
PREPARATION:
MUFFIN:
Soften Burro Fratelli Brazzale in a bowl, add sugar, a pinch of salt and vanilla seeds that you extract from the bean and mix the ingredients until they reach the texture of a cream.
In the same bowl, pour the eggs one by one, continuing to mix the dough, helping with a whip.
After sifting the flour add it together with the yeast to the compound you have obtained and continue to amalgamate to avoid lumps.
As soon as the dough becomes smooth and homogeneous, pour it on a cake pan for 12 cupcakes, be careful to fill every stencil just half of it, because they will grow up in baking.
In a preheated oven, cook at 180°C for 20 minutes with static function (or at 160°C with ventilated function) until cupcakes are golden on the surface. As soon as they are cooked, let them cool completely before decorating them.
COLOURFUL CREAM:
Put cream in a saucepan and in another one sugar with cheese. Add the whipped cream to the sugar and cheese mixture and when everything is well mixed divide it into more bowls. In each bowl add a different colored powder in order to get more colourful creams and than put them all in the refrigerator.
DECORATION:
When the bases of cupcakes are cooled, insert the colored creams in various sac-à-poche (one by color) and decorated muffins as desired.
You will get your MULTICOLOR CUPCAKES!