QUICHE WITH VERENA CHEESE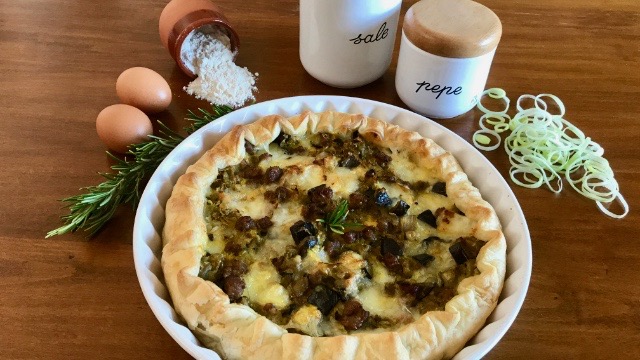 INGREDIENTS (6 servings):
– 1 eggplant
– 2 sausages
– 4 oz (100 g) leek slices
– 7 oz (200 g) Verena cheese
– olive oil
– salt
– 1 roll of puff pastry
– 2 eggs
– fresh thyme
The classic appetizer with which you can let go your immagination, inventing combinations and new variants…
This version with the fabulous mix of sausage, leek, eggplant and Verena cheese, will amaze you!
PREPARATION:
Sauté the leek in a pan with oil, then pour in the diced eggplant and fresh thyme. While this compound is cooking, pour a little bit of olive oil in another pan and cook the sausages cut into small pieces.
Meanwhile in a bowl beat the eggs with a pinch of salt and place the diced Verena cheese.
Line a baking tray with the puff pastry and prick the bottom.
Pour the mixture of eggplant and leek inside of the tray, then the sausages homogeneously and finally the eggs with the cheese to bind it all.
Bake for 20-25 minutes at 180°, then remove the quiche from oven and serve!