VANILLA AND CHOCOLATE CUPCAKES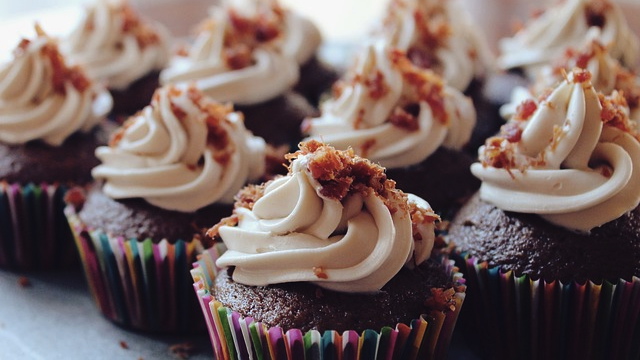 INGREDIENTS (12 servings):
Bottom part (MUFFIN):
– 1 cup (200 g) flour
– 1 cup (200 g) sugar
– 4 oz (110 g) butter
– 2 eggs
– 2 teaspoons vanilla extract
– 2 tablespoons unsweetened cocoa
– 2 teaspoons baking powder
– 1 tablespoon water
– 1/2 cup (125 ml) milk
Top part (BUTTER CREAM):
– 9 oz (250 g) softened butter
– 1 lb 5 oz (600 g) icing sugar
– 1 teaspoon vanilla extract
– 2 tablespoons milk
Cupcakes come from United States and they are delicious and fluffy treats that can be decorated with butter and cheese cream, or with different icings.
Perfect for a delicious snack or for a yummy breakfast!
PREPARATION:
MUFFIN:
First of all preheat the oven to 180° and prepare a muffin tin with paper cases, then mix the cocoa powder with water to create a creamy sauce.
Now take two bowls: in the first mix well (in this sequence) butter with sugar, eggs and vanilla extract; in the second one combine flour and baking powder.
The contents of the second bowl should be added (in two times) to the first, stirring constantly.
At this point you embed in this blend the milk, stirring well to have a smooth cream with no lumps.
Transfer half mixture into another bowl where you will pour the cocoa cream made previously.
Now spoon both bodies (the one based on cocoa and the other on vanilla) into the paper cups, filling them up to ¾ of their capacity.
Bake the cupcakes for 20-25 minutes and when they will be soft to the touch, they will be ready.
Allow them to cool completely before you decorate with the butter cream.
BUTTER CREAM:
In a bowl beat the butter with vanilla extract, incorporate the icing sugar (one quarter at a time) and stir well. Then add the milk until it forms a soft and fluffy cream.
Keep the cream covered until you want to decorate your cupcakes. In that moment spoon the buttercream into a piping bag and pipe the icing using a spirally motion. Finally garnish with fresh fruit or colored sprinkles.