LINGUINE ZUCCHINI, SCAMORZA AND GRAN MORAVIA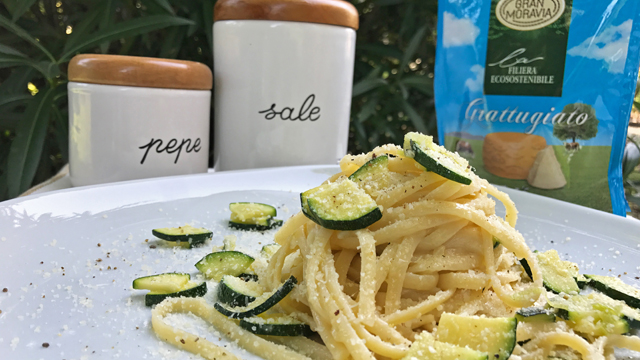 INGREDIENTS (4 servings):
– 13 oz (400 g) linguine
– 5 little zucchini
– olive oil
– 2 cloves of garlic
– salt & pepper
– 7 oz (200 g) Alpilatte scamorza
– 100 g Grated Gran Moravia hard cheese
– 4 basil leaves
The perfect combination of pasta, zucchini and scamorza.
It is a revision of a typical dish of Neapolitan tradition that combines simple and quick ingredients for a fabulous result!
PREPARATION:
Start cutting the zucchini in fine slices and in the meanwhile boil water in a pot. In a pan put olive oil and a knob of butter and then fry the zucchini.
When the water boils, put the linguine inside and when cooked, drain it and pour it into the pan with zucchini and some of cooking water. Stir well with low heat and then increase a little bit the flame.
After a few minutes, remove from heat the skillet and pour inside the previously grated Alpilatte scamorza. Mix everything together and then serve adding pepper, grated Gran Moravia hard cheese and a leaf of basil.