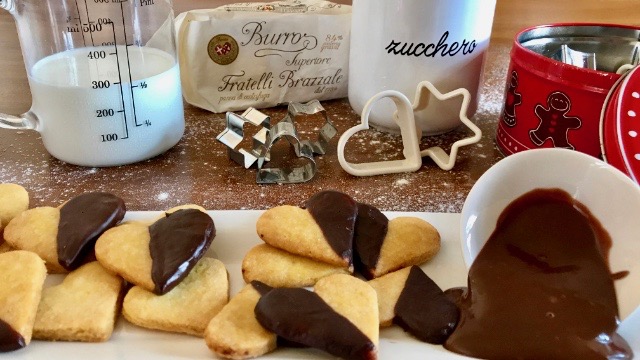 INGREDIENTS (15 servings):
SHORTBREAD:
– 2 cups (500 g) all-purpose flour
– 2/3 pound (200 g) Burro Superiore Fratelli Brazzale
– 1 cup (200 g) sugar
– 2 eggs
– a pinch of yeast (optional, to make biscuits more soft)
– vanillin (or lemon zest)
FROSTING:
– 1/2 cup (100 g) dark chocolate
– 1/2 oz (15 g) Burro Superiore Fratelli Brazzale
These yummy cookies' strength is their simplicity…
They can delish you for a sweet afternoon break or in a tasty breakfast.
PREPARATION:
In a bowl break the eggs and beat them with sugar and flour, then add vanillin (or lemon zest) and butter still cold cut into little pieces (if you want to have softer cookies sum also a pinch of yeast).
Mix on low speed until the dough starts to come together.
Dump onto a surface dusted with flour and shape it into a flat disk. Wrap it in plastic foil and chill for one hour in the fridge.
Spent the time needed, roll out the dough on a floured surface.
Create your own biscuits with the help of stencils and shapes.
Place the biscuits on a baking tray lined with baking paper.
Bake at 180° for 12-15 minutes, until the edges begin to brown.
Allow them to cool to room temperature.
You can also create the frosting, putting dark chocolate and butter in a double boiler. Stir the chocolate and the butter together with a wooden spoon. Continue to heat and stir in 30-second increments until the chocolate is just melted.
Drizzle 1/2 of each cookie with just enough chocolate to coat it.
In this way biscuits will be even more tasty!